RW: I think Michael's being modest because I do know that these shows we've been to both fans and artists have come up to him and say "you're the reason I became an artist, you're the reason I pursued this career". I think it has been an eye opener to him, I don't think before these past few months he didn't realize he had influenced so many people. What's also interesting is the different niches of fans that are appreciative that have come up to him; the ones that like Micronauts, the ones that like The 'Nam, Dr. Strange…it's been very compartmentalized for the most part.
ISO: You do sketches at the shows, have you found that you've been doing more of one character, certain groups of characters more so than others?
MG: Baltimore was a lot of Dr. Strange.
ISO: …and a few Micronauts sketches while I was there…which is a nice segue into the next batch of questions that concerns the Micronauts. I think the series started in 1978, and Bob Hall was the guy who produced some of the first artwork related to Bill Mantlo's proposal. Can you tell me how you got on board with Micronauts after that point?
Micronauts proposal artwork by Bob Hall

MG: Jim Shooter just asked me if I wanted to work at Marvel, offered me $10 more a page than what I was getting at DC, and I said yes…mind you that was only like $28 per page at the time. He said they had this thing sitting around called Micronauts. I wasn't really interested in doing it because I was already doing two books a month over at DC, and they were superhero books and I really wasn't interested in doing superheroes. So Shooter threw out this idea about what the Micronauts were, without actually telling me they were a toy tie-in at the time. But it wouldn't have made any difference because it was presented to me as a science fiction adventure. And I was cool with that, it sounded more like something I'd be interested in. So when DC imploded I went ahead over to Marvel and did Micronauts.

ISO: You were credited as a co-plotter, was that another perk to get you to accept the job?

MG: Well, I was co-plotter in a sense that I took whatever Bill Mantlo gave me and made it work! (laughs)
ISO: So what exactly did Bill supply you plot-wise? I was under the assumption from reading an old interview with him that the first 12 issues were already plotted out and kind of written and planned…
MG: …already worked out? No…the whole thing was made up on the fly. Back then, everything was still done the Stan Lee/Jack Kirby way. It was known as the "Marvel Style"; the writer would produce a plot, the artist would produce the artwork and then the writer would go back in and write the dialogue. Now I had never worked that way before but obviously I must have had a knack for it because it all worked out well, or reasonably so…
ISO: Did you ever have meetings with Bill, did you ever sit down and talk with him personally?

MG: Repeatedly, all the time yeah.

ISO: Were you working out of the Marvel offices at the time?

MG: No, after I'd accepted that assignment I had moved to Virginia.

ISO: One thing that was very apparent was that you stayed very true to the look of the toys when illustrating ships and vehicles and robots…were you supplied reference material from MEGO?

MG: Oh yeah, they handed me a big crate of toys…

ISO: Did you have to refer back to that reference a lot or did you pretty much remember it after you looked at it to get it right?

MG: Nah…you draw it once and that's it. Once you figure out how it looks, you better not be constantly going back and looking at it! (laughs)
ISO: Well for instance in the first issue you drew something called the "Death Tank" which was a part from one toy combined with something you made up, would you go back to the toy box to create something like that?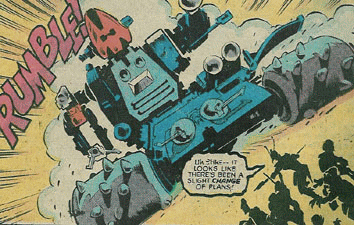 MG: Well it was the nature of the Micronauts toys that you could make them interchangeable if I remember them correctly, and in that context then yeah, I would go and interchange things to get different visuals.
ISO: Did you think that they toys themselves were at least kinda cool reference material to work from? Inspiring at all?
MG: (pauses…laughs)…I…just thought of them as things I had to draw. You know, I didn't think of it in terms of an 8 year old kid playing with the stuff, it was more "how and what is the most effective and efficient and expedient way to draw this thing every page".
ISO: Did the license holders ever tell you that you had to go and put a certain amount of this or that into the pages of the book?
MG: No, not back then. They were just thrilled to have the book out.
ISO: Did they just kind of give you free range then?
MG: Well, I can't answer that one yes or no. Marvel themselves were more of a stickler on what they wanted than anybody else was.
ISO: What directives did they give you?
MG: The directives were basically that it was a "Marvel" book; you have X amount of action and that action has to be in a certain context, and the bad guys had to be bad guys, etc…this was Marvel Comics before all the gray stuff started infiltrating the storylines.