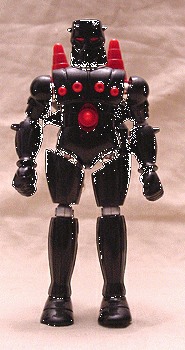 "Classic" Baron Karza repro
The new Palisades Baron Karza has been reproed with the original "Japanese" style head, not the latter refined Mego "HK" head.
Magno collectors all over are rejoicing at the fact the new figures now come in a variety of colors for (basically) the first time. The Karza/Andromeda sets come packaged 6 boxes per case; 3 black, 2 clear and 1 an exciting new clear red. These new clear colored plastics allow you to see exactly how the missile firing mechanisms work, and the large "magno" plate inside the body. Now, who out there doesn't love that clear plastic ? The new Baron Karza's all come equipped with the same accessories as the vintage ones with some minor subtractions. Only 1 belly missile is included this time as well as only 1 pair of fists. Be careful firing those projectiles kids...! As a matter of fact, due to today's safety regulations, the new springs have had to be weakend a little, to avoid any choking (or related) accidents. Also included with the new set are 3 rubber tipped safety missiles.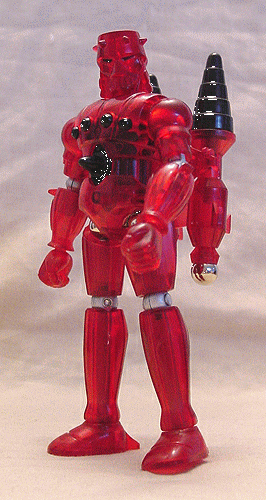 Baron Karza translucent red with black highlights