"Classic" Oberon repro
The new Palisades Oberon gets a slight makeover, with nice gold chrome replacing the old solid white coloring on the torso joint, hooves, tail and wheel hubs. A red main was also added to match the other highlights.
On November 27th, 2002, Palisades finally offered the Force Commander/Oberon sets for sale (as a pre-order only). There were three different versions of Oberon produced: White (180), Clear (120), and Red (60). You were able to order one or all three if you wish. The sets were broken down and sold in bundles: SET 1 (Limited to only 180) One White FC/Oberon, SET 2 (Limited to only 120) One White and One Clear FC/Oberon, and SET 3 (Limited to only 60) One White, One Clear and One Red FC/Oberon. Because they were produced in such a limited number, ordering was limited to 1 of each set, and only to club members. They shipped by December. The new Oberon's all come equipped with the same accessories as the vintage ones with some minor alterations. The new steed is a slight mix of the first and second vintage version releases. While the side rocket missiles are of the "Japan" style (pointed 1st release) the tail is the "HK" version (2nd version), with the more blunted end. Also, only 2 of the side rocket missiles have been included, so be careful firing those projectiles kids...!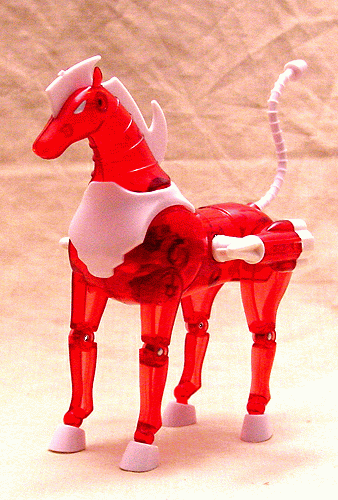 Oberon translucent red with white highlights