What you see at left is not what you might hope it is...no, it's not some lost or unpublished vintage Micronauts illustration, nor is it the cover art for a long awaited re-launch of Marvel's mightiest Micro-team, but it was drawn by someone you might associate with that title...
Although Marvel Comics is definitely not bringing back the Micronauts anytime soon (or ever!), this commissioned piece was indeed illustrated by what some consider to be the signature artist from that series: the legendary Michael Golden. After almost 20 years of not being on the comic convention circuit, 2006 saw Michael returning to doing personal appearance at shows and cons which meant that fans could finally meet and visit with one of their all time favorite comic book artists live and in person. It also gave fans the possibility of obtaining some original artwork from him as well...and for the last year Michael has been booked solid with commissions!
Along side his current regular work doing cover art for such publishers as DC Comics, Michael has been bombarded at every show taking on commissions, signing comics and chatting with fans. Of course, ISO could not pass up the opportunity of a life time, and the end result is what you see before you.
A one-of-a-kind new Michael Golden Micronauts original.
Eat your hearts out.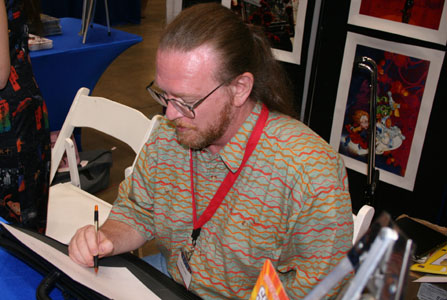 Michael Golden at the Baltimore Comic Con 2006